Captain Falcon is the star of the F-Zero series, although very much like Marth and Fire Emblem, less than a decimal of his fanbase is actually from F-Zero.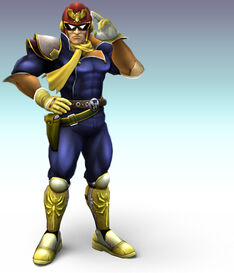 He is best known for the infamous Falcon Punch meme, a fiery punch named after himself that assumedly has insane amounts of power. The character himself is also a meme for his so called "manliness", making it so many people essentially use him as Nintendo's Chuck Norris in a way.
He is also well known for the Knee of Justice, his Forward Aerial Attack in Melee and Brawl. Its damn near useless in Brawl, pretty much.
The NR members who main the Captain and play him quite well would be SMRPG1, Kirbyfan66, Bazzoka, and Shambuu.
Members on Falcon
Edit
Community content is available under
CC-BY-SA
unless otherwise noted.