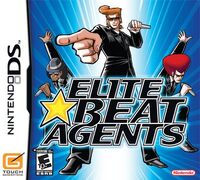 Elite Beat Agents is a rhythm game made by Nintendo for the Nintendo DS. It is the American rendition of Osu! Tatakae! Ouendan. The player taps and drags on indicated locations on the touch screen of the DS in time to the rhythm of the music to score points, while the upper screen shows comic-style scenes of the fictional "Elite Beat Agents" cheering on others in tough situations through their dance moves.
This game is rather underrated, despite being one of the best DS games available. This game is often referred to as EBA because of it's long title.
The Game's Soundtrack
Edit
All of the tracks that appear in Elite Beat Agents are cover versions (cover artists in parentheses).
Steriogram - "Walkie Talkie Man" (by Jason Paige)
Sum 41 - "Makes No Difference" (by Vinn Lombardo)
Avril Lavigne - "Sk8er Boi" (by Angela Michael)
Freddie Mercury/Queen - "I Was Born to Love You" (by Paul Vician)
Stray Cats - "Rock This Town" (by Mark Latham)
Deep Purple - "Highway Star" (by Kaleb James)
Village People - "Y.M.C.A." (by TC Moses)
Earth, Wind and Fire - "September" (by TC Moses)
Jamiroquai - "Canned Heat" (by Jason Paige)
Madonna - "Material Girl" (by Melissa Garber)
Ashlee Simpson - "La La" (by Laura Jane)
Chicago - "You're the Inspiration" (by Julian Miranda)
David Bowie - "Let's Dance" (by Delaney Wolff)
Good Charlotte - "The Anthem" (by Kevin Ridel)
Hoobastank - "Without a Fight" (by Kevin Ridel)
The Rolling Stones - "Jumpin' Jack Flash" (by Billy Fogarty)
The following three songs are unlockable within the course of the game by achieving cumulative high scores across all difficulty levels and stages. As certain high score totals are reached, the player will move up in rank, and by achieving certain ranks, a bonus stage and song is unlocked. In the order in which they are unlocked, they are:
Cher - "Believe" (by Lynn Rose)
The Jackson 5 - "ABC" (by TC Moses and Brittany Kertesz)
Destiny's Child - "Survivor" (by April Harmony)
Members Opinions
Edit
Community content is available under
CC-BY-SA
unless otherwise noted.