Metaknight is the rather dark & ominous Star Warrior who wields the powerful Galaxia and created a monster airship in that of the Halberd. It is unknown whether he is Kirby's ally or enemy in the games. In the Hoshi No Kaabii anime, he serves his majesty Dedede alongside his fellow comrades Blade Knight and Sword Knight as a front. His true purpose is helping Kirby to mature and sharpen his ability as a star warrior.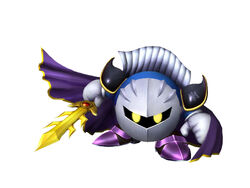 In SSBB, he is VERY hated and considered by many to be the cheapest character in the game with his unbelievably fast multi-sword hit combos and spammy specials such as the Dimensional Cape, Mach Tornado and Shuttle Loop. He is considered to be Top Tier alongside Solid Snake in Tournaments since they have the best winning potential. He is also said to be banned in certain places because of his broken moveset.

Some very good MK players on NR would be Kirbyfan66 and Tidus Strife. Although both use him sparingly. Not very many use him for all the reasons stated above.
Metaknight in the Kirby Anime
Edit
Member's opinions on MetaKnight
Edit
In addition to SSBB; Metaknight is playable in Kirby Air Ride (Gamecube), Nightmare In Dreamland (GBA) and Kirby Superstar Ultra (DS).
Metaknight is the only Top Tier fighter in Brawl without a projectile.
Metaknight is the only fighter in Smash History where his ban has been under serious consideration.
Community content is available under
CC-BY-SA
unless otherwise noted.