PK Flash! ~ Ness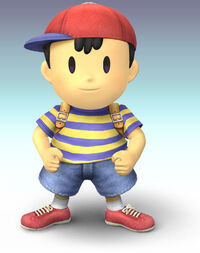 Ness is a young boy who is about 12 years old and has psychic abilities. He is the main character of Earthbound/Mother 2. He was born in the town of Onett, in the fictional country of Eagleland (which is supposedly made to resemble America.) He commonly wears a red hat, a t-shirt with blue stripes, blue shorts, and red sneakers, although he occasionally wears clothes such as a black t-shirt, blue shorts and sandals and other types of clothes. Ness has also appeared in every game of the Super Smash Bros. series to date. Ness is often viewed as the most popular character in the Mother series.

The only two NR Members that play Ness exceptionally well would be Tidus Strife and Kiske.
Member's opinions on Ness
Edit
Community content is available under
CC-BY-SA
unless otherwise noted.