R.O.B is one of the many NEW characters added to the Super Smash Bros. Brawl game. He is quite a unique & original addition to the cast and is actually quite deadly with his rather impressive recovery & arsenal of weapons such as the chargeable Gyro & Laser Beam. R.O.B. ranks at the bottom of the Top Tier on the Brawl Tier List, at 6th place, due to his excellent match-ups, great tournament outings, and nearly unrivaled recovery.
The two most notable users on NR who are known for using the Renegade Robot exceptionally well are Pkjd and Resurgence.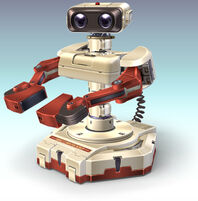 Character
Edit
R.O.B was a Robotic Controller like device that was made to play certain games such as Gyromite on the Nintendo Entertainment System. You can find him floating around on Amazon & Ebay for loads of money as it's VERY RARE to get.
Member's opinions on R.O.B
Edit
R.O.B appeared in Mario Kart DS.
R.O.B possibly inspired the movies "Johnny 5" and "Wall-e" to be made.
R.O.B. is the only character is Smash Bros. Brawl that did debut IN a video game, although he's appeared in several games since.
Community content is available under
CC-BY-SA
unless otherwise noted.