Samus is a female Bounty Hunter, who is also the first Female Main Character in Video Game history that's playable, who defeats Space Pirates, Metroids, X Parasites, and Phazon.
Samus has appeared in all Smash Bros. games, her strongest appearence is in Melee. In Brawl, she was nerfed badly to the point of being worse than Pichu in Melee.
Her biggest fanboy is Lavama, and he mains Samus in 64, Melee, and Brawl. Another fellow NR member in that of Ghor771 also plays a deadly Samus.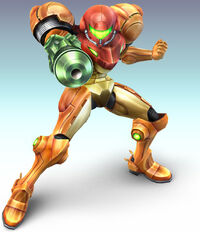 Member's opinions on Samus Aran
Edit
Community content is available under
CC-BY-SA
unless otherwise noted.