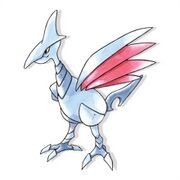 Skarmory is a Steel/Flying pokemon that was introduced in the second generation. It is considered one of the best spikers in the game, as well as one of the best physical walls that currently lives in the OU format. It's capable of dealing some decent STAB damage too with Drill Peck and Brave Bird but it's mostly used as a supporter and fills the role with Whirlwind, Spikes and Roost to restore it's HP while it slowly annoys the opponent blowing them out of play. If Sandstorm is factored in, and Stealth Rock is on the field the residual damage can build up pretty fast.

Skarmory's biggest claim to fame in competitive pokemon battling is the combo used with Blissey to create the infamous cheap 'SkarmBliss' combo which can wall pretty much just anything in the game.
Member's opinions on Skarmory
Edit
Community content is available under
CC-BY-SA
unless otherwise noted.