Super Crazy Guitar Maniac Deluxe 2 is one of the hardest games in the world. Ranking nearly in the same league as "I wanna be the guy" this game is so hard your eyes will burst violently trying to keep up with the flurry of notes.
How it's played
Edit
Super Crazy Guitar is played by using the up, down, right and left keys to hit little arrow notes. A, S and D work too in order to combat the letter notes. However, the game is so tough you'll cry when you lose for the fiftieth time.
Songs are measured in difficulty, from easy to insane. However, I have put the real differences here.
Easy= Normal

Hard= Challenging

Tough= Evilly Hard

Crazy= Just Give Up

Impossible= Can Only Be Done by God
The game's songs
Edit
The game features numerous songs, such as Mario all the way to SWiTCH vs Evil-Dog round one. The game's songs are so hardcore you won't bang your head against them because you'll likely split your head open.
List of Songs
Edit
Hollywise
This Way (Demo)
Truth or dare
The quest of your life
Super Mario Bros Rock (both easy and EXTREME)
Legend Of Zelda Rockin (Easy and EXTREME)
My heart up your ass (Easy and EXTRME)
SWiTCH vs Evil-Dog round one (easy and EXTREME)
Broked it
Please (intro)
Piano vs guitar 1.2
Rough Tone
Run'n'gun
F-Zero
Completing the game
Edit
Although this game is so hard you'll suffer lag from it's awesome, one person at NR has actually managed to complete this monstrosity of a game. His record shines magically in the picture.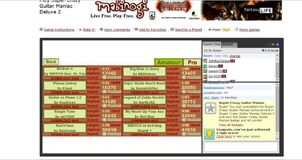 People who have ACTUALLY COMPLETED THIS GAME
Edit
Community content is available under
CC-BY-SA
unless otherwise noted.