The Blob is most known for being in the Clayfighter franchise which received a lot of mixed reviews.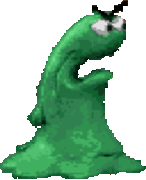 He is probably one of the deadliest characters in the game with his insane array of attacks such as the "Multi Fist", "The Shoe", "Buzzsaw", "The Anvil" all of which do loads of damage when laying into the opponent properly. Notably, the Buzzsaw in particular which is broken cause even when blocked it still does decent damage and continues hitting an extra six times.
In the sequel, his moveset isn't altered too much and his Buzzsaw attack got watered down so he wasn't as cheap as his older predecessor.
Member's opinions on The Blob
Edit
Resurgence enjoyed using The Blob in Clayfighter and ALWAYS played as him. Found him to be VERY deadly too with the broken buzzsaw attack.
Sonic's second favorite character in the series is The Blob, only behind Ickybod Clay. He was quite fond of his super deadly buzzsaw attack.
Rey confused this character with Blob from X-Men.
In Clayfighter 2, Blob had an EVIL twin called Slyck that was playable when you beat him in the main game.
The Blob is one of the 2, the other being Bad Mr. Frosty, appearing in each game, although he greatly changes in each one.
Community content is available under
CC-BY-SA
unless otherwise noted.